Gizmo Scooter Dean
AD PD2 OA OAP OJP O-EJC EAC NGC CD
"Gizmo"
3/07/1994-7/23/2007

My Heart and Soul Dog
Click here for two stories written by my father.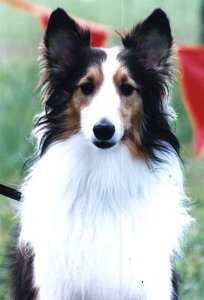 As is the case with many children of my generation, I spent many hours watching Lassie. I always wanted a Lassie dog from the very first time I saw the show, who knows how long ago. My parents, however, were cat people and never wanted anything to do with a dog. All my life we had Siamese cats, and I loved them, still do. I always thought I was only a cat person, but as the years went by and I thought I wanted to be a vet, I started to check out all the different kinds of cats and dogs there were in the world. I got lots of books from the library and read any story that had an animal in it.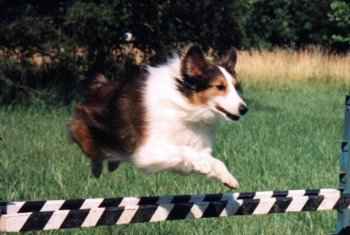 When I left for college, I knew that I wanted a cat, I had to leave mine at home with my parents as she was just too attached to them. I finally moved into a house at school where I could have a pet, so off to the shelter I went and came home with a very young Siamese/something mix. I named him Puck, and only had him for a week because he died of liver failure, never knew quite why. I decided that for a while I did not want any other animals as it was just to heart breaking when something happened to them. But as the years went on and I graduated from College, the animal bug bite me again and I started looking.

Along this time I also met my Husband and got married. He was committed to the military, and so I was starting a new life knowing that his job would take him away from me for maybe months at a time, I told him that I just had to have a dog (don't to this day know why I wanted a dog, as I had never had one before). As we discussed what qualities we wanted in a dog, we both agreed that we wanted something that would get along with cats and would be a good Frisbee dog. Thus the breeds we started to consider were the Border Collie, Sheltie, and Basenji (because they are a lot like cats). Once again I remembered my childhood where I just loved Lassie and thought maybe I should get a collie, but as it turned out I really was afraid to start out with a big dog since I had never had one before.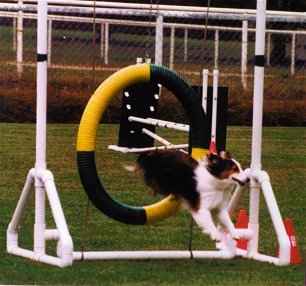 So I started to watch the paper and called a few people with Basenji's and Sheltie's. I called the local AKC referral only to be told that they had no breeder listings for shelties. So I keep diligent watch on the paper, and one day along came an ad for Shelties. This was a backyard breeder (as many I did not know better at the time) who had breed his female and male pets and got a litter, well they were all Tri's and females except for one. His name was Gizmo and yes he looked just like the Gremlin. As he was the only S/W they had that was the one I wanted, did not find the Tri's appealing, so we put down a deposit on Gizmo at 6 weeks old, and most of his siblings went to their homes within the next 2 days. We were about to move to a better place, so asked the breeder if they could keep Gizmo for us until he was 9 weeks old, I went to visit him every day and could not wait until I got him home.
And that is my story long as it may be.
Gizmo spent much of his life doing agility and even earning the Novice title in Obedience. He taught me so much and Is the reason I am a dog trainer today.